Are Formal Dances Becoming Too Expensive?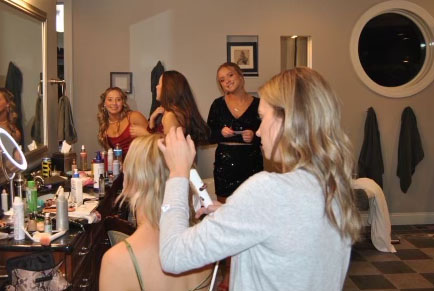 The dress, the hair, the nails, the makeup, the jewels, the dance.
Preparation for high school dances has become an expense that most students would consider extreme. Though the preparation in question is primarily optional, the ticket itself is higher than many can afford. 
"The preparation costs way too much, especially when you compare girls to boys and when you put into account dresses, hair, makeup, shoes, jewelry, transportation, tickets, etc," said junior Maddy Bullard. 
The day of the dance, for many girls, consists of hours of getting ready. Not only do they have to pay for the dress, they also can get their hair and makeup done. 
According to "How much does it cost to go to prom? The number is shocking" by Mary Bowerman on USAToday.com, "Between hair and makeup, outfits, tickets and rides to prom, teens are spending an average of more than $600 on prom, according to Yahoo Style's 2017 Prom Across America survey."
Teenagers, especially girls, are likely to spend more money on a "fancier" dress, which has been partly due to social media's influence on trends. Brands like Sherri Hill and LoveShackFancy have emerged as hotspots for women's formal dresses, but are not lacking in expense. 
"How much does it cost to go to prom? The number is shocking" by Mary Bowerman on USAToday.com also states, "We are seeing that girls now are more kind of looking at the bigger picture and more willing to spend money on a dress that they get more than one wear out of it," she said. "It's maybe a dress that's on trend, and they can wear for graduation or homecoming or another prom at another school, so they'll spend a little more money on it."
Other girls look at these events as a pinnacle of the high school experience, which is deserving of the money. This is how Avery Strand, Kelly Walsh senior, sees it. 
"I think formal dances are definitely expensive but I also feel like they are worth the cost because you only get so many of them," said Strand. 
The night is filled with dinner, limos, and memories. Though it is a large expense to attend most formal high school dances, it is seen as a dreamy night.  
"When it comes down to it, it gets costly depending on how much your outfit, hair, nails, etc can be. This all depends on how much you put into your experience." said senior Gracie McCain. 
Dances in many high schools can seem like an expensive event, but this outcome can often depend on a person's choices and their perception of the dance. Overall, tickets and dresses are becoming a large expense for many, compared to the long term importance of formal dances.