Essential workers and their children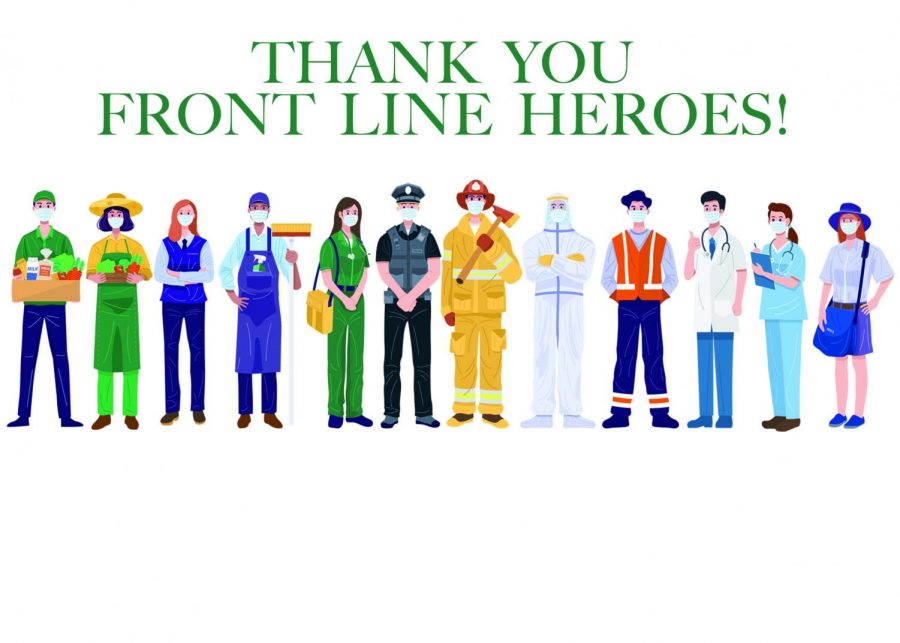 During this crisis throughout America, our work force has been separated into two work areas which are nonessential and essential. Non-essential work places are restaurants, coffee shops, tattoo shops, etc. However, when it comes to essential workplaces, those are our hospitals, health care workplaces emergency services and grocery stores. While Wyoming may only have 776 confirmed cases of Covid-19, there are still 1.56 Million confirmed cases across the United States meaning the numbers here could double any day at any time. Dealing with Covid 19 is not easy for anyone especially our essential workers since they have to work harder than anyone else to help patients dealing with the virus as well as helping their own families. 
Ever since quarantine has started in Wyoming, essential workers have been praised here and there by the littlest things. Erin Hopkins, mom of four kids, is now a Stay-at-Home worker but she originally worked at a healthcare facility helping patients face to face; however, Hopkins now has to help her patients through Zoom or Skype. When Hopkins was asked what she thinks of Casper praising her and the countless other workers she said:
"When I see the signs in people's yards and the other little posters stores put up in their windows, it honestly gives me a smidge of hope that this virus will pass over and one day we can just go back to our normal lives and not have to worry for our health everyday we step out of our house."
While kids may not have to worry about going to work, they do have to make sure their parents are okay when they come home from work and keep the one's around them safe. When Mackenzie Wallingford was asked what she does to help stay clean and help her mom keep her sanity she said:
"It kind of depends on the mood I'm in if I'm being honest with you. Some days I want to go all out and deep clean my entire room and sanitize all of my belongings but most days I will just pick up after myself and keep my room/house clean. However, when it comes to keeping mom sane and making sure is okay, I do whatever she asks me as I know she has a long day everyday. Also, whenever I leave the house I am ALWAYS wearing a mask and I carry hand sanitizer."
Staying at home and keeping your loved ones safe is much more important than grabbing a Venti Strawberry refresher from Starbucks. However, Wyoming residents have not been staying at home more than other states in America. In fact, Wyoming has one of the worst ratings for staying at home during this pandemic. Kaitlyn Hopkins is another family member of the Hopkins family and when she was asked what she thinks of the people not staying home and keeping others safe she said:
"Seeing people my age out and partying or hanging out with a bunch of their friends honestly really gets under my skin. I try and do my part to stopping the spread of this virus to the best of my abilities by staying up to par on my cleaning and social distancing. I get people who need to go out of town to visit family, but right now is such a bad time to start living our lives normally again." 
Being the oldest son in my family means I have to set examples for my younger siblings. During this pandemic, I need to show them what to do to stay safe and what not to do. My mom, Amanda Matthews, works at Wyoming Medical Center East but has to go to work instead of doing Zoom or Skype meetings. Every day she goes to work for 8-9 hours exhausted, so my siblings and I make sure we do the most for her as she is now an essential worker. When I asked my siblings what they thought of the virus they said:
 "I really like being at home. I get to play my video games when I want to and I get to finally do online school," said Terran Matthews. (Age 10)
"The virus is really scary but I don't let it scare me! I get to be around my family all the time now," said Harper Adams. (Age 6)
While this virus may not seem serious to some, it is the number 1 scare to our essential workers and their families. Staying together and strong is the most important thing to keeping Wyoming and America safe from this pandemic. If everyone does what they need to do and keeps social distancing, America will return to its regular day to day lifestyle. Thank you to our front line heroes for doing all they can and preventing the spread of Covid-19 as much as possible.