SENIOR SURVEY: SPECIAL SHOUT OUTS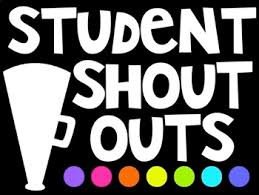 Hang on for a minute...we're trying to find some more stories you might like.
Savanna Christensen: Shoutout to the clarinet section in the band; They've seen me at my best, my worst & my weirdest (especially with my banana costume & my various superhero onesies..) Thanks for still associating with me after those!
Elizabeth Jennings: To all my lovely friends- The game has been won
Jacob Tuttle: Shout out to Barrack Obama
Tyra McAdam: Shout out to ACE BOOSIE. Keep doing your thing.
Madeline Eathorne: Mr. Delaney- Thank you for always having a smile on your face, lifting my mood, and being so kind. Shout out to all the choir people! Shout out to all the seniors- we're almost there!
Raedyn Vidal: Tess Bjorksten- for being a cool person. Dustin Hebert- for believing in me. Mr. Delaney for being the nicest person ever. Haylie Hasbrouck- for always making me laugh and smile in class. Daniel Williams- for the same reason.
Irie Elliott: Abi Schoup being the realist
Clarissa Stinson: Hey! Mrs. Roberson add be back on Facebook now that I'm gone!
Caige McComb: Shoutout to the BOYS
Ashlynn Peverley: Morgan Jaquez because she's the realist. And Elizabeth Ann Masterson for putting up with me.
Kylee Magee: Shout out to the janitors for sticking around.
Matthew Paris: To Maddi and Brooke the best history partners anyone could ask for.
Joey Geil: Yo shoutout to my boi Taylor Maese, you are my least favorite person and I love you.
Mariah Hartgrave: Thank you to Bailey & Julia for being the coolest friends.
John Johnson: Official Villain on SoundCloud
Ash Isennock: Shoutout to all my friends.
McKenna Ferraiuolo: Trinaty, even though you aren't here anymore thank you for always believing in me. I know you are here in spirit.
Taylor Jereb: The librarians! Always showing me cool books.
Madi Czellecz: Shout out to Liz Masterson for being a true homie.
Payton Pew: Shoutout to Madi C for always being there!
Luke Hansen: Madi Czellecz makes crap coffee and is out of my circle.
Rion Brownfield: Obviously shoutout to Mrs. Box in the tech office, she works so hard and doesn't get true recognition she deserves.
Caylee Anderson: Shout out to all my friends who have made my high school experience worth it.
Morgan Robertson: Mr Diller. Best principal out of anyone. KWHS is better in every way. I feel bad for the upcoming freshman that won't have him.
Jennifer Ly: Thanks Mrs. Upplegger, Mrs. Campbell, and Mrs. Slotsve. You guys made me feel as though I've had teachers that cared about me. I appreciate you all!
Andre: Mr. Diller
Dust Silveira: Be good and love green, have fun, be happy
Hannah Taylor: To my best friends for making my high school years great. & Mr. Diller for being an amazing principal & for making my experience at KW 10 times better!
Katelyn Sims: To my friends, I couldn't do this without you guys thanks for being awesome!
Ashley Hatch: Shout out to Mr. Glock for making math fun and always glaring at me in the hallways when we'd see each other. You're a great teacher no matter what others say.
Christopher Archuleta: Dawson Poste for being the coolest red headed hawty around.
Abram Hansen: Shout out to my boy Ryan Thapa.
Keaton Westoff: Bart (the fart) Sticklen for helping me and my step 2 brothers get YOKED.
Cedar Smith: Bart (the Fart) Sticklen for getting step 2 YOKED.
Maxwell vonGuten: Keatoob Westoff for throwin fast balls in science. To Cedar Smash for destroying the menomorph in Kelly Walsh.
Joshua Gaither: Josh Shilling
Rayne Hamm: Mr. H for letting us express ourselves in the most creative, yet ridiculously weird way. Best class ever.
Brianna Sims: Diller! Best principal I ever had, so lucky we are his last class to graduate.
Lauren Tyson: Lisa Tyson because she is special to me.
Bailey Anderson: Shout out to Mr. Diller for being the chillest, kindest, and best principal ever!
Mattie Robinson: Diller for always making the effort to know each kid and make them feel welcome.
Laine Smith: Tristen Smith is literally the man, y'all need to see him in action.
Emily Applegate: Shout out to Mr. Diller for always saying hi and giving everyone a laugh. KW will miss him.
Heather Avila: Shout out to my ride or die and my best friend Ashley Hatch! I love you girl! Thank you for keeping it real!
Alisha R: I <3 Chanee!
Everett Chapman: Mrs. Wilson & Mr. Dow keep being awesome
Maddy Rust: Shout out to my teammates they have made the past 4 years more bearable.
Calvin Speth: Shout out Raquel Speth & Kahner Christopherson
Riley Box: Some special shout outs would be Mr. Rose, Bailey Anderson (BFF), my close group of friends; Jan, Jevin, Simon, Bailey, Dawson, Drew. My girlfriend Joenon for always being there for me. And my #1 supporter Jo Box, the IT lady who I call mom.
Kaitlyn Sanford: Johanna Moter, Finnegan Stubson, Ethan Spicher, Isak Triplett, and Emma Hume, you guys are some of the greatest and most supportive friends I've ever had. I'm going to miss being around you the most!
Dan Druse: Mr. Diller for being a great principal.
Katherine Holdren: To the sports kids: I don't care about your after school activities. Please stop complaining about it constantly. And just because you do it, doesn't make you the Bee's Knees.
Caelan Beardsley: This shoutout goes to Bailey Anderson for being my best friend throughout all of my high school! Much Love!
Glen Risha: Everete Chapman, Alex Finkle
Olivia Chase: All of my teammates and friends
Caden Curry: The world's finest lady Sage Marie Dobby, she does everything and more for me, and there is no way I could imagine my life without her.