The Fabrick of a Great Novel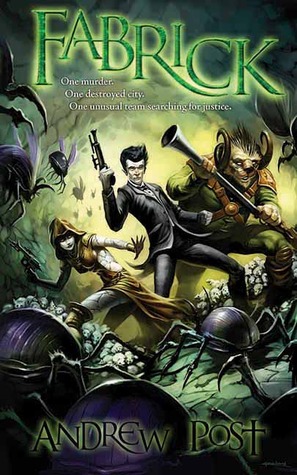 I've been reading fantasy novels for as long as I can remember. Unicorns, wizards, castles, different types of magic…it's my favorite genre, it's my second home. But that also means I've read an absurd amount of them. There are themes and clichés that abound and seem to run through almost all books, and that goes for any genre. And while these things don't ever stop me from enjoying a good novel, it is delightful to come across a unique and refreshing world. I came across such a world in Fabrick by Andrew Post.
Fabrick is the first book in a series (currently containing two books but with plans to expand). The story inhabits a semi-steampunk world of innate magic out amongst the stars and planets. Our protagonist, a naive young man with virtue as long as his legs named Clyde, begins his adventure with the death of the man he has served for many, many years. Joining company with a treasure hunter of another species Clyde starts off to avenge his master. Collecting another couple companions along the way, his quest takes a turn to save his damaged home city, Geyser.
While this may sound relatively pedestrian in terms of plot, from the start it caught my attention as something new. Clyde's quest does not begin as the reluctant chosen one, but as a man determined to avenge a man he has idolized and considers his only true friend. He is too secluded to be a put-upon victim that becomes a hero. He is simply devastated and seeking balance in the world for what he sees as a senseless wrong.
The second thing that caught my attention was the purely marvelous craft of Andrew Post's writing. The way in which the book was constructed, all the way from a single sentence to the entire novel, had a cohesive, intelligently woven structure that left me starstruck as a lover of language. A related part of craft was his highly unique characters and the natural way in which he slowly acquainted you with them through the prose. I won't go into detail lest I spoil the magic for you, but he had concepts I had never seen executed so well anywhere else, or had simply never seen before.
I also have found that the more books I read the harder it becomes for me to be fooled and incapable of guessing the next twist. But Fabrick had me constantly thirsting for answers and in the dark, furthering the can't-put-it-down factor on this marvelous novel.
All in all, Fabrick is easily one of the best fantasy novels I have EVER read and  would highly recommend it to anyone who enjoys fantasy or even science fiction. It can even be found in KW's library, so go give it a read!