Schell Poised for Another Winning Season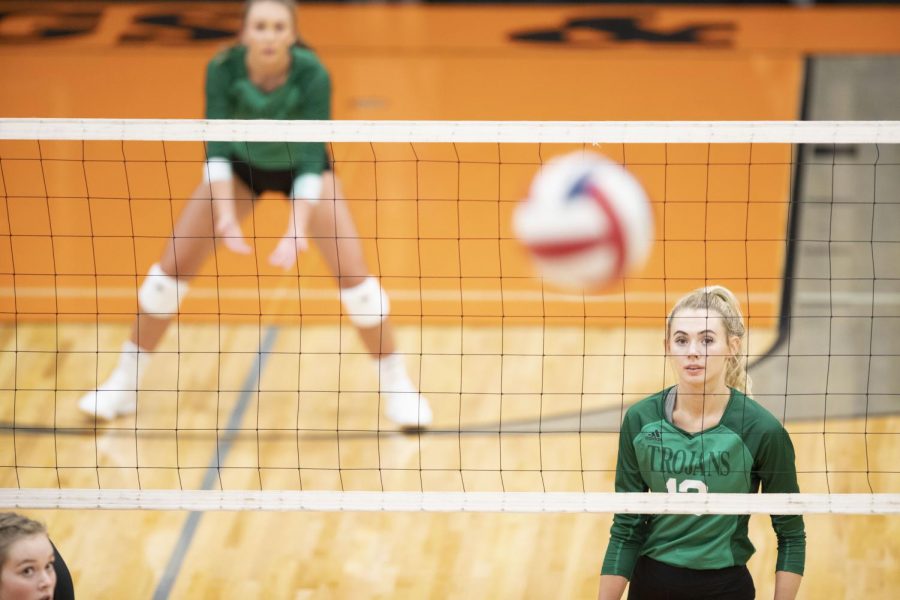 Coming off of an impressive junior season of a state championship, third-time all-state list selection, and the Gatorade Player of the Year for the 2018-19 volleyball season for the Kelly Walsh Lady Trojans, current senior Danilynn Schell has her eyes set on more.
With The Lady Trojans first game in Casper being held at NC against NC, Schell and the rest of her team were looking to put on a show for the supporters and the cross-town rival supporters.
When asked how she was feeling about the team's first head-to-head game with the Fillies of the 2019 season, Schell said, "I was excited to play. It's always fun to go out there and play with my team and play our best."
Even people who don't know much about the sport can tell how good of a player Schell truly is, Kelly Walsh Varsity football kicker Colten Atkinson said, "I can admit when I watch [volleyball] I really have no idea what is going on, but I can just see that she is crazy. Whenever she goes up to hit one over the net you can kind of feel everyone gets excited. And she is all over doing everything super well."
The Lady Trojans were able to beat the Fillies in 3 sets, winning the first after a close 29-27 victory, then followed by 25-12 and 25-18. 
One of the noticeable characteristics of Schell is how seemingly calm she always is, but it can leave people wondering if she is feeling what she is showing.  The Trojans needed that tight first set to wake up and play the way they are known for playing.
"I knew that we were just going to have to come together and play better. I wasn't nervous because I have faith in our team, but I knew we could play better. And we did. I was very happy that we were all able to come together and pull it off together."
In the game against NC, Schell had a total of 11 kills, 2 aces, 9 digs, and 18 assists. And with herself and her other talented teammates working together as they are, the lady Trojans look to be in pretty good shape. 
The Lady Trojans have played 13 games so far this season with only one loss to Thunder Basin.  With Schell and KW's many other talents at their disposal, the Trojans are looking for yet another successful year.