Volleybowl Trophy Stays at KW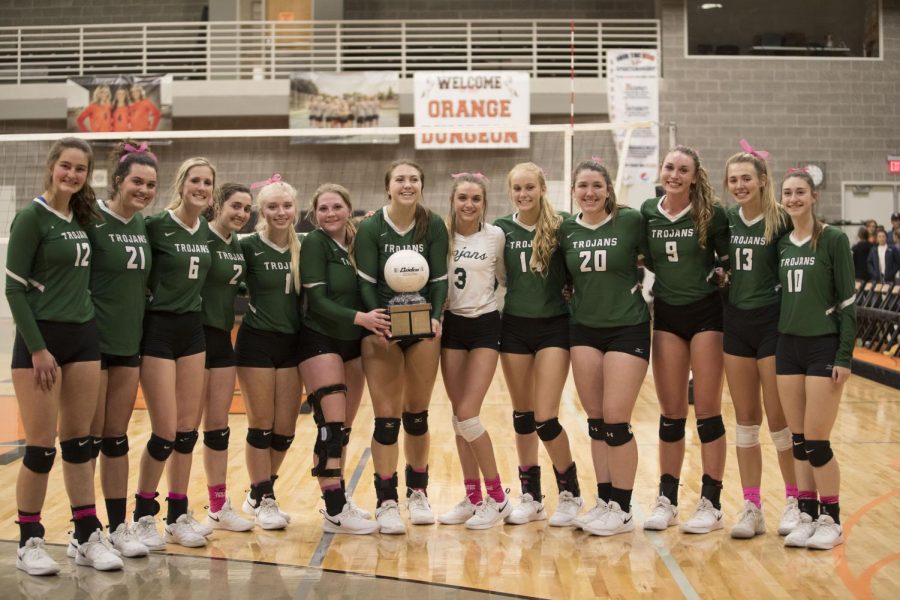 Melicia McIntyre, Staff Writer
November 16, 2018
From the deafening Kelly Walsh student section chanting time and time again, "We want Whitney," echoing through the Jerry Dalton Gym, in came senior Whitney Porter. With one point left in the third set needed to win the Volleybowl, senior Avery Maxner set the ball high up into the air where Whitney Porter spiked the ball straight into Fillie territory.
"I was so excited it's such a big accomplishment and no two people deserve the last point more than Avery Maxner giving an assist to Whitney Porter," said Sarah Strube, a junior, after the last point was scored.
Emotions burst throughout the gym especially for senior players such as Porter, Maxner, Brooke Abbott, Saaj Hull, and Hadley Lloyd because it was their last Volleybowl.
"I've loved playing volleyball for four years, so it was really sad but also relieving to finally be done after so long," said Maxner.
Students piled onto the court to congratulate the ladies on their clean sweep 3-0 (25-15, 25-17, 25-13) of their town rival. This is now their second consecutive Volleybowl win.
The Trojans controlled the game from the start with a five point lead right off the bat. Even in the second set when the Fillies found themselves with a four point lead.  Coach Jeff Barkell called for a timeout. As soon as the Trojans were back in the game they quickly shut that down getting five points consecutively and gaining back the lead.
"There was mainly a lack of focus from us because we just won the first set and just lost our focus which they used against us. Barkell just told us that we need to bring high energy, gain back our focus, and just do our jobs," said Abbott.
Seven students painted in green spelling out TROJANS stood in the front of the students section leading the chants and cheers along with the other senior students. Both the NC and the Kelly Walsh student sections went back and forth chanting and cheering all throughout the three sets. The Kelly Walsh student section cheered their hearts out for their fellow Trojans on the court trying to hype them up. Which is exactly what happened.
"When we're playing and the crowds are cheering back and forth it amps us up a lot more and we just feed off that energy,"  said Corin Carruth, a junior.
"I was really excited because it's always fun playing NC. They're always a good competition and always keep a high energy when we play. It's just always a very intense game," said Porter.