Traditions of Troy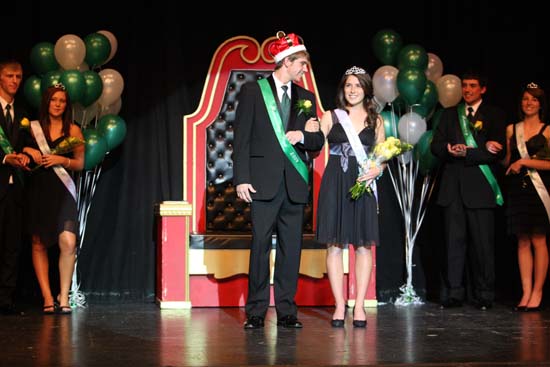 Hang on for a minute...we're trying to find some more stories you might like.
Traditions are what make any school unique. Each school usually has long-standing traditions that generations have enjoyed and look forward to enjoying.   Kelly Walsh, like any other school does have some traditions , but as we settle in to the 2018-2019 school year, things have started to change for the Trojans. The seniors who were once freshman remember many more traditions that the school used to celebrate, but now cease to exist from the yearly Trojan celebrations.
Traditions that have faded from the school we call home include the elaborate homecoming throne, homecoming court attire, Oil Bowl/Peach Basket assembly, the Man of Troy, and Freshman Formal. While the school continues to lose a lot of traditions, they are holding onto a few such as Homecoming Spirit Week, COED, and Rodstock.
The official coronation of the Homecoming King and Queen used to end with a sitting upon a red and gold homecoming throne, and since the move to the new building the Kelly Walsh homecoming throne has not made an appearance. In the throne's place sits a plastic, ordinary chair with no meaning. Besides the chair, the homecoming court dress attire has also become more relaxed and the court no longer shows up in black dresses and tuxes.
The underclassman have not seen an official Oil Bowl or Peach Basket Assembly where the whole school comes together to support the Trojans in the two most popular rivalry matches against Natrona.  It is unclear why these assemblies no longer happen.  It could be because all sports deserve to be recognized. If this is the case, these assemblies could easily be modified to recognize all sports in their effort\ts agents Natrona.
"I miss all of the extra pep rallies because the whole school came together in school spirit," said junior Lainey Deacon.
Years ago, the school used to have a male beauty pageant called Man of Troy.  It used to be a good fundraiser for the Man-A-Wish foundation.  But inappropriate performances lead to the apparent banishment of Man of Troy. The last Man of Troy boy pageant took place in 2013.
The last Freshman Formal took place for the freshman class 2014. This tradition simply faded away due to lack of parental support as the dance is planned by the parents.
One tradition that is still going is KW's Make A Wish Fundraiser, Rodstock. Rodstock is named after former KW teacher and class of 1969 alumni, Rod Mahaffey.  Mahaffey used to plan a day each year where he would play his guitar and sing songs to his classes in his own classroom. He taught for many years at Natrona before transferring to Kelly Walsh in 2007, where he continued his one-man show he liked to call Rodstock. In his third year at KW, Mahaffey agreed to move Rodstock to the auditorium in an effort to raise a little money for Make-A Wish.  Teachers and fellow musicians Duane Reimer and Jason Murdock eventually joined the show and it snowballed into the huge tradition that it is today.  Eventually the whole school got involved and the event became so large the only place big enough to have it was the KW gym. Kelly Walsh has raised thousands of dollars for Make-A-Wish Wyoming since 2009 from the beloved school event.
"My favorite tradition at KW is Rodstock because we get to help someone have a dream come true and we get to enjoy ourselves with our friends,"  Alyssa Miner, a junior said.
COED, the Sadie Hawkins style dance that replaces the formal homecoming, is a standing tradition for Kelly Walsh that has happened every year of our school's existence. The dance takes place on a Saturday towards the middle of November. Traditionally, girls put signs together with clever slogans or come up with other creative ways to ask boys to the dance. From fake kidnappings, car paint, balloons and other surprises the girls snatch up their dates and head to the school for an evening of dancing fun.
Senior Kendyll Castillo said, "It's a great bonding experience with friends and family who are a part of the whole occasion from getting dress with the other girls in my group to having my mom do my hair and makeup."
Another KW tradition that is still in effect is the details of graduation. Boys wear green gowns and the girls wear white gowns showing the school colors. As well as when the students come out in a group of four, a pair of girls and a pair boys. This allows the students to walk with their close friends for one last hoorah before official graduation.
As more and more traditions seem to fade, others are always being introduced such as the Trojan Plaza.
"The best feeling is to honor those fallen Trojans who were killed in action. We are Kelly Walsh and they are Kelly Walsh, it is a great way to show the community as a whole that we have a duty to not forget them," said retired principal Brad Dillar.
Former principal Brad Dillar speaks of the Ring of Honor. A memorial near the main entrance of the school that honors graduates of Kelly Walsh who had gone into the armed forces and lost their lives defending our country. Each plaque tells who the soldier was, the branch of military they were enlisted in, date of graduation, and place and date of death. They will forever be Trojans who will never be forgotten.
The new Trojan Plaza is the area on campus between the Harry Geldien Stadium and the athletic entrance. This place will soon hold tailgating traditions before the football games and serve as a local gathering spot for all Trojans. Within the plaza, the school is putting in a "Hall a Fame."  Here the school will honor former alumni and major influencers of the school.
As the years age Kelly Walsh, people will come to be a Trojan and learn what that truly means. Traditions should always be honored and kept to keep the history rich and develop the school's character.