Students Take on AP and the Stress that Accompanies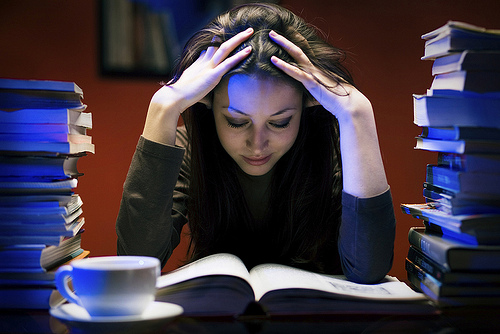 Hadley Lloyd, Assistant Editor
May 21, 2018
Among the Kelly Walsh student body, a handful of Trojans are more acquainted with the mental breakdowns, intense study sessions, and overwhelming stress that accompany a rigorous and difficult schedule.
AP, or  Advanced Placement, is a program in the United States and Canada that offers college-level curriculum for high schoolers. KWHS offers several AP courses in a wide variety of subjects.
"I've taken Chemistry, Statistics, Literature, US History, and I'm now taking Calculus 1 and 2, Language and Composition, European History, and Biology" said senior Hunter Hasskamp.
With free access to upper level education, many students take advantage of multiple classes, like Hasskamp.
While the benefits are clear, these courses also provide struggles for every student enrolled in them.
"Obviously, AP classes have a heavy workload as they're equivalent to a college class. For example, you're often taking notes to prepare for tests or doing analysis and application assignments regardless of the class you're taking," said senior Cayley Fleischman.
Most students spend around 1 to 2 hours on homework per Advanced Placement class per day, although time spent studying often increases even more nearer to AP exams.
"Sometimes there is a lot of work and other times not as much. It just depends,"  said junior Tyler Whitley.
Furthermore, the amount of assignments varies by class.
"The workload in Music Theory was a lot heavier than in Literature. I feel like the Literature workload is the same as any Advanced Literature class I've taken; we just have to write essays," said junior Lesley Doney.
Nonetheless, stress is just a part of the AP experience, regardless of whether or not one chooses to take the exam. Many students feel that the harder curriculum is a challenge on its own.  
"I feel like AP stress is a more rational stress because there are direct consequences if you do not do well compared to normal stress," said Hasskamp.
However, despite the pressure, many students still choose AP.
"The classes were most definitely worth it! Not only do I have credit for several college classes (many of which are introductory ones), I have a ton of cool random trivia from each class! Also, the rigorous workload and fast-paced environment really prepare you for college courses!" said Fleischman.