Trojans Take State Championship: A Season in the Making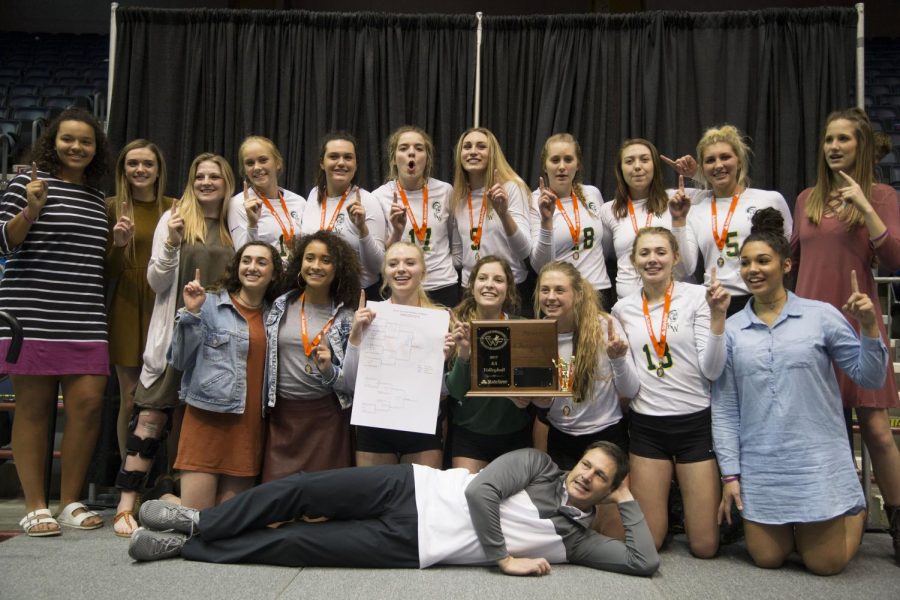 Hadley Lloyd, Staff Writer
November 6, 2017
The fourth and final game of the Wyoming High School Class 4A Volleyball Championship played out as a marathon of match points to points matched. At a score of 31-30, the Trojans needed only to secure the volley ahead of them to defeat Cheyenne East.
The serve went over, East attempted a return, and sophomore Dani Schell blocked the ball straight to the ground. The team exploded into celebration. The bench rushed the court, jumping in jubilation. The Kelly Walsh Trojans had become champions.
"I had so much adrenaline rushing through my body, especially when the score was bouncing both ways for game point. This was our goal and finally reaching it was seriously the best thing that could have ever happened." said senior setter Shaelea Spargur.
The Trojans had been highly-ranked all season. They were undefeated in conference play and won the 4A West Conference Regional Tournament the weekend before. Expectations were high coming into the state competition, no doubt because of an established reputation as a talented team with natural chemistry.
"It's nice being able to rely on and trust everyone to do their part," said sophomore Corin Carruth.
With a line-up bursting with talented hitters: Maddy Dedic, Jill Phipps, Maddy Vinich, Hadley Lloyd, Corin Carruth, and Dani Schell, and play-making setters, Schell and Shealea Spargur, the Trojans were able to utilize a seemingly endless supply of offensive weapons. But the Trojans' offensive prowess would be all for naught without the solid defense provided by libero Hallie Jimenez and defensive specialist Brooke Abbott.
The Trojans' storybook season was not without adversity. Junior Saaj Hull suffered a season-ending knee injury in the last home conference game against Evanston, and senior Jaliegah Davis injured her ankle in the days leading up to Regionals.  A pre-season loss to Cheyenne East at the Cheyenne Invite and a surprising loss to a scrappy Rawlins team derailed the Trojans' quest for a first-place finish at the Casper Invitational and left the team hungry and determined.
Although they were crowned champions in one weekend, the Trojans had been working hard to achieve their goal since coming up short in the 2016 State Championship game against the Lady Thunderbirds. The Trojans put in countless hours in the gym, beginning with camps and tournaments over the summer, working hard to earn the top spot.  
"What got us to the championship was our hard work every day," said senior Maddy Dedic.
Now that the season has ended, the Trojans plan to relax, celebrate, and come back ready for the open gyms later this year, gratified and even more motivated while the 2017 Championship trophy rests at Kelly Walsh High School.