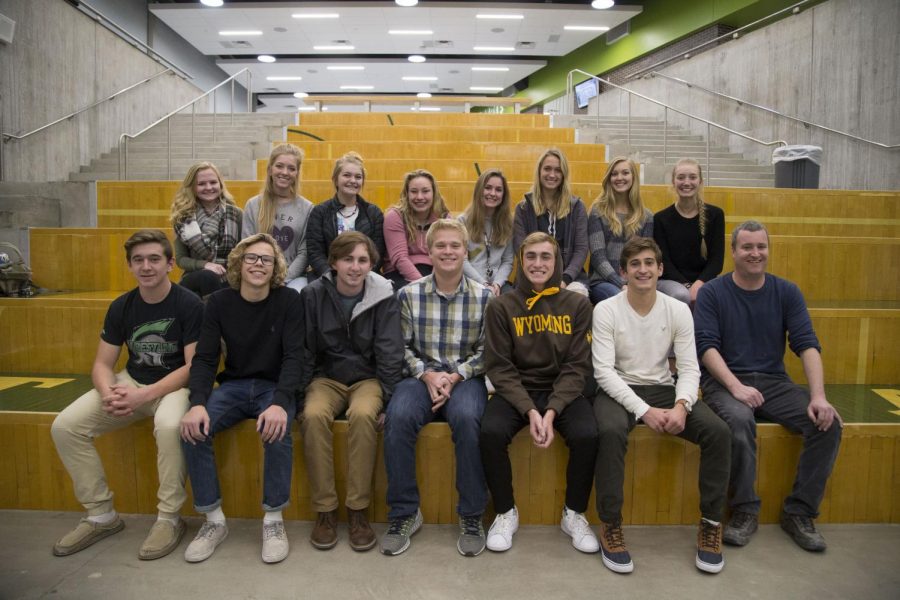 What does one get with the mish-mashing of volleyball, four square, and tennis? The answer: Spikeball. After their launch in 2008, the founders of Spikeball took their new idea to the CNBC show Shark Tank. This appearance would lead the company to see a never-ending increase in production.
Per spikeball.com, Spikeball is a completely original, totally new sport. It is focused on the community, while being a sport, which is an activity involving physical exertion and skill in which an individual or team competes against another or others for entertainment, according to Google.
Spikeball has recently joined the Kelly Walsh community. Senior Matthew Paris, along with many friends and Spikeball advocates, has pushed school administration to create a Spikeball Club. Paris already has lined out an adult sponsor, Mr. Asay. Paris said his biggest reason for making this sport a school-sanctioned club is so that he can enjoy the amenities of gym time and space to practice. The school is currently denying the participants of Spikeball from gym space, and the title of being a club. Despite this, Paris still held practices, just doing them outside at the Kelly Walsh Soccer Complex. The de facto club has enjoyed the ability to do this due to nice weather, but this came to a sudden halt with the first big snowstorm of the season in early December.
Paris said his interest in Spikeball was sparked when he "went to a tennis camp this summer and at the camp it was really big and everyone played it." Paris continued when he said that he started the club because "some guys on the Kelly Walsh Trojans tennis team loved to play it and we all decided that we should try and get the rest of the school into it."
Although Paris has yet to be denoted a club by the school and its administration, he has gained a big following within the high school. Paris says he averages about twenty to twenty-five kids at each of his weekly meetings, with new participants showing up each week.
Senior Kendal Chipperfield said that she enjoyed Spikeball because "it gets so intense and it gives me exercise. So, after I play, I do not feel bad about skipping the gym because it gives me good exercise and a good workout." She also said that it is super fun, and does not compare to any other sport she has played.
Abree Hill, a Kelly Walsh senior, shared the same sentiment as Chipperfield when she said, "I play Spikeball because it is very competitive and I love to win. I did not think much of it when I learned about it, but now I am so glad I gave it a chance because I love it."
Lastly, senior Grace Vigneri added to these girls' comments when she said "Matt [Paris] introduced me to it, and I love it because it keeps me on my feet."
Whether you are a freshman or a senior, in sports season or out of season, Paris asks everyone to give Spikeball a try. Contact Paris for information about meetings, which he says will be postponed in the winter, unless the school decided to finally recognize his favorite sport as a club.